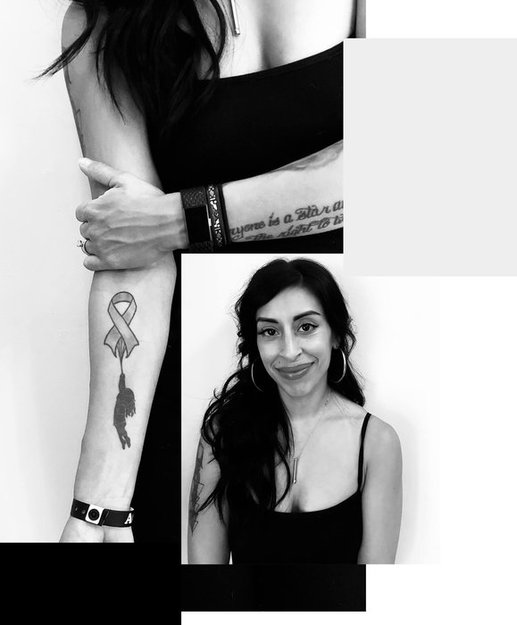 Specialties: Cut and Styling
My name is Audie and I'm your friendly neighborhood spider…er…stylist. I've been in the industry for 12 years and counting. Training in the Vidal Sassoon way of hair and the Bumble and Bumble way. Precision and intuitive, dry and wet cutting. Most of the time I utilize a combo 1-2 punch of both.
I love what I do. I'm into the cutting and I'm into the styling. Sculpting hair with scissors and sculpting hair through styling techniques. Transforming someone's look is my favorite. Who doesn't love a good makeover! You come in asking to cut it all off and I will never ask you if you're sure. Hush your lips. It's happening. Let's do it. Sit down. When it comes to styling, I do everything from casual blow-dry styles to let's drag queen this hair all the way up.
Something very near and dear to my heart is working with people who have lost their hair due to cancer or other illnesses. Being the daughter of a brave woman who fought and unfortunately lost her battle with cancer I've been behind the curtain of what it is and what it means to be on that journey both physically and mentally. It is an honor to know those of you who have been on it and overcome or are currently fighting, for you are what it means to be strong. I would love to help whoever I can by freeing you from falling hair and making bald sexy, demonstrating fun ways to wear scarves (no reason you can't be fabulous while getting pumped with poison), and sculpting new hair that's making its way back. My future goal is to take it a step further and learn all I can about wigs so that I can teach you and/or a family member how to apply and care for them properly. Stay tuned.
I want everyone to be happy when they leave my chair, including me. That's why my favorite kind of client is someone who can put their trust in me and let me work my magic. I have a saying, that saying involves expletives, but the clean version is "If you let me do what I do, it always comes out better". When clients bring in pictures of what's going on in their heads it makes my life easier. That is a solid jumping off point for me to really understand what you want your eyeballs to see when looking into a mirror. I will never promise to make you look exactly like Penelope Cruz or Tom Hardy. But I can take what you like about their hair and apply it to what will work best for you. Unless I hate it for you all together…. then I'll give you a different idea.
I aim to develop long lasting friendships in my chair. I will laugh with you and cry with you, maybe both at the same time if you're into that sort of thing. I have a huge sense of humor that I pride myself on that ranges from light to dark, clean to dirty, so you never have to be afraid of offending me. Just be yourself and I'll be me. Let's talk about movies and how awesome the world would be if I were in charge.